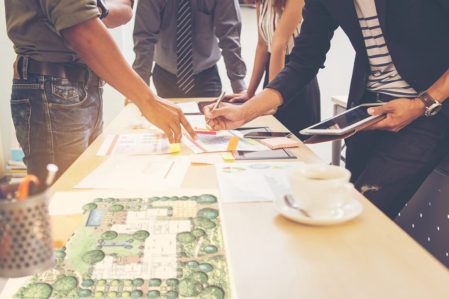 Passion, professionalism, and forward thinking are what drives our team. At Saylee Greer, we aren't afraid to color outside the lines. We inspire to think different, make bold choices and find inspiration from unconventional sources. We strive to create trends, not follow them. Our collaborative and client-based culture allows us to create truly distinctive designs that are delivered on-time and on-budget.
"Imagination is more important than knowledge. For knowledge is limited to all we now know and understand, while imagination embraces the entire world, and all there ever will be to know and understand." - Albert Einstein
What Our Clients Are Saying
"Honestly can't say enough good things about this company. I bought an older home with a very large lot and all I knew was I wanted a super cool pool Miami or Vegas style. Chris came out and blew me away with his design! Not only is my backyard now the absolute best in my neighborhood it's like the pool came right out of a luxury hotel! I love having my friends and family over now all the time. I get so many compliments on my pool and my whole yard. Saylee Greer also did a fantastic job on my double patio as well as my privacy fencing. Would've never of come up with such great design on my own. They were so professional. So impressed that once they started my job they were out everyday from the start to the finish, minus a couple rain days which is to be expected. Cedar In the office was always on top of my project and always answered every question. She kept me up to date with what was happening and when things were due. Extremely professional. I've never experienced such professionalism from a construction or landscape firm In the past, and I've owned 3 homes that have all needed work this was my 3rd pool I e had built. I will now never go with another company. I had They also did my irrigation flawlessly. They did have to come back to adjust a couple heads in my pool island so that every plant gets water but they came back out and fixed the heads. Now it's been 2 years since my first project was completed everything is still perfect. My plants are growing in wonderfully and my grass is so lush and gorgeous(tip from Chris: hand water new plants the first few weeks even with irrigation to make sure they take well! IT WORKED) I can't wait to add on to my yard with the second half of the design Chris came up with." - Mary Villarreal
"We had Saylee Greer landscape our front yard and they did an amazing job! Jason and his team were very professional, friendly and attentive to any questions I had. We have had half a dozen neighbors stop by and tell us how great our yard looks. Can't wait for them to do our back yard as well." - Patsy B.
"Mr. Chris Greer with Saylee Greer was wonderful to work with. From the design to implementation, he and his company were insightful and efficient. I personally enjoy working on my yard and yet knew I needed a professional to help with plant selection and design. Many factors had to be considered from tree trimming to how much sun in the summer the yard would receive. Chris even provided suggestions based upon other homes in the neighborhood in an effort to provide something unique and yet conform to our community. Once the work began, the crews were efficient and hardworking. Their work bordered on my neighbors yard and they were careful to NOT damage any of our neighbors plants or grass. No easy feat when a great deal of 20 year old plants and trees had to be removed. Chris was also very available to meet with me after my work hours to do several walk throughs as the project progressed. Subtle changes were made and handled without a problem. The photo attached is not a professional picture. I took it with my iPhone. Thanks Chris." - Michael Lane
"Our yard looks beautiful; even better than we imagined. The design and installation compliment the house and existing yard perfectly. Working with everyone at S-G was pleasant and stress free. What they proposed to do was done and they stuck to the proposed schedule. Very nice experience and beautiful installation." - Thudeets
"I couldn't be happier with the landscape architecture, design execution and customer service at Saylee Greer. Chris Greer has a great eye and was able to translate that into a beautiful and effective design. Chris made several visits out to my house prior to the project to ensure I understood the project as well as a follow up visit after completion. The project was completed very quickly and meticulously. I would highly recommend Saylee Greer; they've done three projects for me and have solidified a Customer for life! Thanks again." - Ricky Robinson
We called on Chris to design lighting and landscaping for our home after meeting him at the Home & Garden show. He came up with innovative and creative recommendations. We were so pleased with his ideas that we decided to extend our patio and add an outside kitchen, with his design input, of course. His staff did an incredible job and were very professional and neat. We love our outside world!!" - Ann Ramert
Fantastic design and great work. Because of an event I was having at my house I had a short completion time and they exceeded all my expectations. Thanks a lot!" - Janie Spalding
© Copyright Saylee Greer. 2019. All rights reserved.